Increase Diversity and Inclusion in the Legal Industry
Diversity is still a major challenge in the law.  A recent survey of 232 law firms found that 74% of Associates were Caucasian, 11% were Asian American, 5% were Hispanic, and 4% were African American.* This is why provisions like the Mansfield Rule — which certifies that law firms have at least 30% of their leadership roles be comprised of minorities, women, and LBGTQ+ lawyers — are so critical for employers and today's workforce. 
At Legal Innovators, we believe we need to renew our focus on diversity and inclusion in the law, especially when it comes to recruiting, hiring, and developing today's junior legal talent.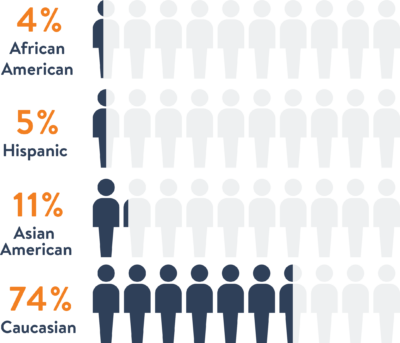 Download Legal Innovator's White Paper – Restoring Lost Hope:
How to finally achieve meaningful diversity and inclusion in the legal industry
Diversity and inclusion are two of Legal Innovators' most important company values.
We maintain this focus across all that we do.
Recruitment and Hiring
We interview and screen a diverse group of law school students as part of our comprehensive recruitment and hiring process, including candidates from traditionally underrepresented groups. We select junior legal talent with strong academic credentials, impressive professional backgrounds, and quality extracurricular experience for our 2-year work-based learning program.
Mentorship
Women and minorities in the law often lack robust professional networks and role models. That's why we connect our junior legal talent with mentors — partners, senior associates, and leaders in corporate legal departments — who have a vested interest in their professional growth and success. Our founders Bryan and Jon also play an active role in guiding, supporting, and mentoring our legal professionals.
Training
Legal innovators incorporates diversity and inclusion into our ongoing training program. We help our junior legal talent navigate workplace challenges that are common for attorneys from traditionally underrepresented groups.
Corporate Goals
By hiring junior legal talent from Legal Innovators, corporate legal departments and law firms improve diversity and inclusion in their workplace. We partner with our users throughout the relationship to help them establish, broaden, and reach their future diversity and inclusion goals, including ensuring compliance with the Mansfield Rule.

"All of us should share Legal Innovators' commitment to improving diversity and inclusion in the law. It's true, it's top of mind of many of us, but collectively we're not doing enough. There's still a major gap. Legal Innovators is creating the change that we need in our industry when it comes to diversity and inclusion."
– Thomas Gottsegen, Chief Legal Officer at IPR – Inland Pipe Rehabilitation. 
*Source: Vault/MCCA Law Firm Diversity Survey 2018 Report